Jawai is a quaint little town in the pali district of Rajasthan. Jawai was not really a tourist location till a few years back. The only thing famous here was it's beautiful dam called " Jawai Bandh" built on Jawai river and also the world famous Ranakpur Temple, located 50 kilometres from Jawai bandh.
However 2-3 years back Discovery channel did a documentary on Leopards in the area. That was the trigger, which resulted in this place being developed into a tourist location. The good thing is it's still work in progress, therefore it's not yet crowded. Thus making it a great place to go and unwind yourself if privacy and virgin territories are your kind of thing.
How to reach Jawai bandh: Fastest & most comfortable way to reach Jawai is by Train. Trains to Jawai are available from the Major cities like Mumbai, Delhi, Jaipur, Udaipur and Ahmedabad. If you are coming from outside of India, you can land in Delhi/Ahmedabad airport and then take a train to Jawai. The nearest stations are 'Mori Bera' and 'Jawai Station'. Flight: The nearest airport is Jodhpur. You can take a cab from Jodhpur. It's about 150 Kilometres from Jawai ie 2.5 hours road journey
It was an impromptu trip we took to celebrate the onset of the Year 2020, and to escape the city madness and be spolit. Luckily we got a room in the beautiful Jawai Shambhala an Eco-lodge which was surrounded by nature in it's purest form- untouched & bountiful. Our cab took a winding route. Got lost a few times,then finally drove down a dirt track and finally we were there. We decided to simply relax and unwind ourselves that day.
Day-1: Leopard Safari
Jawai hills are world famous for Leopards. This place offers one of the highest chance of spotting leopards than other wildlife reserve in India. The best time is either early morning or late evening. The safari can be booked online in advance. The safari lasts for about 3 hours.
Timings of Safari:
Summers: Morning – 5:00AM to 8:00AM; Evening – 5:00PM to 8:00PM
Winters: Morning – 6:00PM to 9:00AM; Evening – 4:00PM to 7:00PM
Our safari driver cum guide picked us up from the hotel and took us to a common point from where all safaris commence. The vehicle of choice is an open jeep. It comes fully loaded with water, snacks (Potato Chips), Tea/Coffee and binoculars to ensure you have the perfect safari experience. It's a good idea to wear a hat. It can be sunny and hot.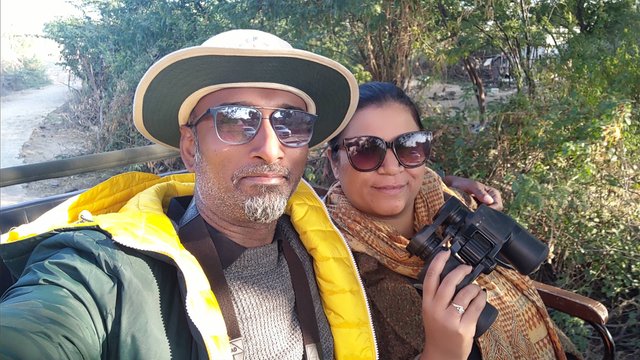 The rate for the safari was comparatively cheap compared to other places we have been. A single jeep which can accommodate a maximum of 4 tourists comes for INR 4500/ USD $ 60.
First Stop- Jawai Bandh: They kick started the safari by taking us to Jawai Bandh the dam that gives the place its name. We were expecting it to be a small stop on the way. But once we got there the true natural beauty of the place dawned upon us. Its a pity we went there when sunlight was not very optimum for photography. However believe us when we say the pictures do NOT capture even 10% of the beauty.
The waterbody is home to exotic migratory and indigenous specials of birds. At any point of time you can easily see a few crocodiles swimming around in the water or basking in the sun on a rock. We saw a lot of them. While the scheduled stop here was only for 15 mins, we would have loved to spend 2-3 hours there.
Second Stop: Leopard Hills: After our time at Jawai Bandh we moved to leopard spotting. Jawai has a rough and dry terrain, ofeering perfect conditions for Leopards to live & thrive. While the place is known for leopards the place is also infested with another animal which is not so glamorous "Hyenas". There is a constant territorial war between these two species. And humans often bear the brunt of this gang war!
Most of the western media stories of leopards straying into Indian villages are from this region. Man and animal boundaries are extremely blurred in these parts as a result of human population slowly encroaching into animal territory.
The safari was a decent experience. Do remember spotting a leopard is always a "possibility " and not a "guarantee". After an hour of roaming around looking for this wild beast, we finally came upon a cave structure in the rocky mountains. A small family of mother leopard and its two cubs came out for a brief while. I think it lasted all of 2 minutes.
Watching the leopard family. Then all of us humans rushed at them to take pictures and they vanished back into the cave. That was the end of leopards for that evening.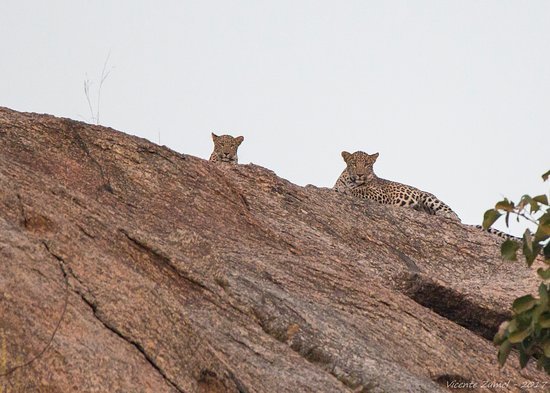 It's the same mountain cave. But the pic is of another day. We were not able to shoot with our cameras. They were far away! Image Source : Safari driver.
Look out point: Finally our safari ended with our guide taking us to the lookout point to enjoy the beautiful sunset at this scenic place. The view is stunning. It gives a bird's eye view of the whole valley.
This is where the tea and coffee comes out. You can sit here admire the view and enjoy the drink. Post that the driver dropped us back to our resorts. By the time we reached it was late evening. Time for a nice drink and dinner. That is exactly what we did.
To follow our journey, subscribe to our blog.