Egypt is known for many things such as art, culture, history, architecture, anthropology, social studies, religious studies etc. But the one thing that no one associates with Egypt is adventure sports and interesting experiences.
Deep sea diving, snorkeling, hot air balloon rides are all popular activities in Egypt. I did not have time to explore all of them. The safety precautions and best practices in Egypt are nowhere close to those in the west. But as an Asian who is culturally used to the idea of "Dekhi Jayegi"( We will see) I was willing to give it a try.
I had one day in Hurgadha. So, my choices with respect to which activity to pick depended on which provided me with maximum survive-ability in case something went wrong. Well I figured it was better to be stuck at the bottom of the ocean where there is still a possibility that I can try and surface. I case I get stuck in an air balloon there is no way I can think of coming down. The fact that I can swim but I cannot fly ensured that I decided to go with the depths of the Red Sea than the Egyptian sky!
Egypt has a long Red Sea Cost. The calm serene blue and transparent waters of the Red Sea is an unforgettable experience. When my hotel guy in Cairo told me about it, I was curious. He told me the two places that were popular were Dahab and Hurgadha. After looking at my schedule and the rates in decided to go to Hurgadha an Egyptian city of the cost of the Red Sea.
How to Get there: The best way to get to Hurgadha from Luxor is by a bus. It's a 200-kilometre journey and takes about 3 hours 30 minutes. The cost of a ticket would be in the INR 600 / USD $9. You can also book a cab it would take the same time. But the ride will be more comfortable. It will cost you INR 2000 / USD $25.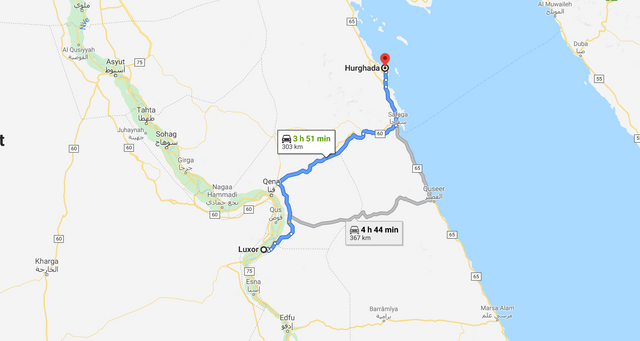 If traveling from Cairo it takes around 5 hours. Bus and Cabs both are viable options. The rates are close to those mentioned above for Luxor to Hurgadha. However, the interesting thing is that the major part of the drive lies along the Red sea coast. It's a very scenic and enjoyable drive. Time passes quickly.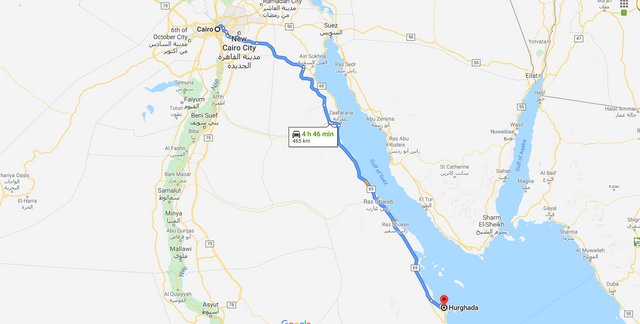 However, one thing to keep an eye on are the rates for domestic flights in Egypt. Especially if you are coming from countries that have USD, CNY, YEN or EURO as currencies. You might land a deal on a for a flight ticket for less than USD $70.
The reason I Chose Hurgadha was it was closest from Luxor where I was visiting the Valley of the Kings. If one is commuting from Cairo. Then both Dahab and Hurgadha would mean the same. I would then recommend you make up your mind based on your personal itinerary.
Also, I was at the fag end of the trip and was beginning to run out of money. I was told that it was the cheapest to go for Deep sea diving. To be frank I was a little apprehensive when i heard the word 'cheap' with 'deep sea diving'. Somehow, they did not belong together. But then at that point of time in my life, I was young, brash and single. So, what the heck! I decided to go anyway. Little did I know It was going to be an experience of a lifetime!
Hurgadha is one of the largest cities in Egypt on the Red Sea Cost. It looks a bit like a run down town made for low cost tourists. However, if you are the kinds who likes to mingle with the local population and get to know the culture, this is a great place. This is probably the only place in Egypt where a local girl will talk to an outsider.
Tarriffs: The rate for deep sea diving and a full day cruise into the middle of the Red Sea will cost you around EGP 790 / USD $50/ INR 3250. This will give you two dives. One before lunch and one post lunch. Compared to rest of the world the rates are super cheap, but then so are the best practices.
Things to note before you go for the cruise:
A day at sea means one whole day (morning to sun down) on a cruise boat with no network and Wi-Fi.
Carry your own snacks, smokes and drinking water. The only thing that might be available on the ship is Tea.
It's a great idea to carry a change of clothes, towels, sunscreen, hat/cap & sun glasses.None of these items will be available on the ship.
Alcohol can be tricky. Also, ice is not likely to be available on the ship. Do not Drink and Dive!
Unless you are absolutely passionate about diving and the sea or you are very good at making new friends on the go, I would recommend going with a friend or in a group. Else it can get very boring.
Hot Sun, Cool Me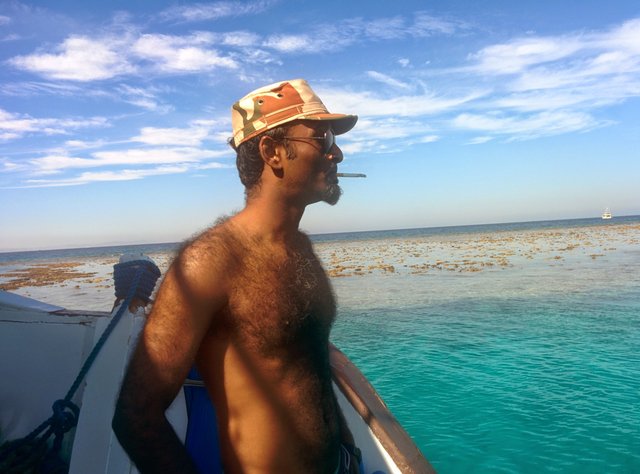 I was picked up from the hotel and driven to the boarding point. I was pleasantly surprised to find a whole lot of Russian Tourists. Apparently, they flock to middle eastern locations in troves. Nice, loud and a bawdy lot. Just like Asians!
The Russians are here !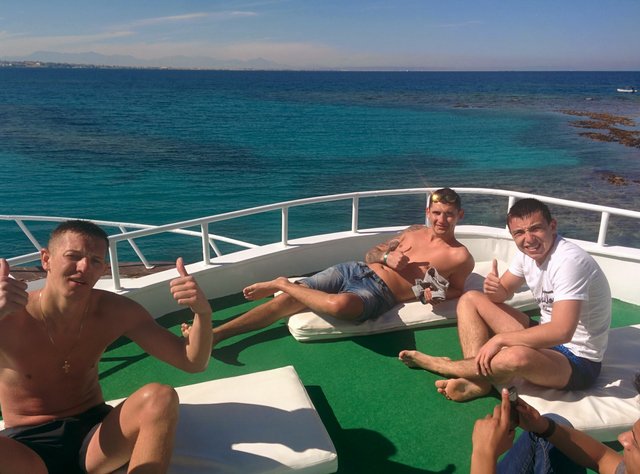 One thing most people may not be aware of is the huge Russian population in Hurgadha. It has the biggest Russian Population in Egypt and also has the highest number of Russian Tourists visiting the place. I made some friends on the cruise.
Diving Instructions
Golden rule"Don't Panic" under any circumstance. Once we were on the ship,we were supposed to be "Trained" for the dive. The training involves an Egyptian diving instructor telling you in broken English, how you will be 50 meters below the Red Sea, how to deal with a situation in case the water got into the breathing apparatus and what to do in case you choke under water. One should not panic under any circumstances. It took all of 30 secs for him to impart this precious lifesaving training. In the west or even in India as per regulations, that would have taken the major part of the day or even days!!That was the training!
How to capture this lifetime moment: They will offer to take your pics. In case you don't want to focus on selfies under water it is a good idea to outsource pictures to them. This will cost you anywhere around 50-100 EGP.
Getting Ready for the dive
So now I have been suited up and was sitting on the edge of the boat. They take a pic of me – the sacrificial lamb for the day! The Sweet Russian lady waving at the back almost seemed to sense what was to come.
Anyways as soon as those divine words were spoken. I was Pushed! That's correct! One nice push and all the fear vanished. It was replaced with sheer terror! Terror has a way of fixing everything. I did not mind it much since that's pretty much how the eastern part of the world kind of does things!
The diving apparatus is not easy to breath with, if one is not trained in it. It takes a lot of effort to pull air through it. And it needs a fair amount of acclimatization, of which I had none! Here i was in the middle of the Red Sea with a diving suit on for the first time in my life totally in panic.
This is me gasping for air after I re-surfaced breathless! Apparently hilarious now but damn scary at that time. For some bizarre reason as I was struggling to stay afloat, the phrase "fish out of water and man in water" came to my head.
It took me about 5 minutes to get used to the idea of breathing through that contraption. But once I got used to, I started to enjoy it. Talk about quick learning curves!
There were around 15-20 of us that day. Each with their own instructors. In some case groups of 5-6 had just one instructor going down with them. Slowly we went down to the one place I never though I would go.
The ocean holds many treasures. Red sea is full of corals and under water flora and fauna. Colorful fish of all shapes, size and colors were stunning. I felt as if I was transported into a different world altogether. I was lucky to see a Octopus. I chased it for a while. Felt to good to be predatory in a dimension not known to be friendly to humans.
Ever since I first read 20000 Leagues under the Sea, It was a lifelong dream of mine to touch the ocean floor. A whole lot of thoughts and feelings went through my mind. Awe and Wonder were definitely part of them
That's me not being able to breathe again under water while i was in the middle of my dive.Thankfully my so-called diving instructor was kind enough to capture this moment of panic! Its important to document such moments. Help can wait!
I managed to cough and splutter and puke out as much Red Sea as possible. After 5 mins i went down again. This time it was much better. Nothing like a brush with death to speed up the learning process! This time I could breathe more confidently.
After a good hour-long experience, we came back up to the ship. We had a nice sumptuous lunch. This was part of the package. I had a blast with the young lot of Russians on board. After an hour post lunch, we had our second dive. This went off much smoother and I did not have any close calls.
The ship came back to dock around 1700 hours in the evening. By the time I got back. for some reason I was dead tired. Even though it was my last day in Egypt I reached my hotel and just crashed.
However, despite all the events of the day, looking back I would not rate it a bad day. In fact, I would say it was one of the most exciting and eventful days of my life.
I hope you enjoyed reading about it, as much as I enjoyed sharing with you. If you wish to know anything about the place. Do feel free to reach out via comments.