White water rafting was one of the most exciting things we had ever done. Both Sajan and I had done rafting back home in Rishikesh. So when we read that there was white water rafting near Ubud, there was no way we were going to miss it. We were absolutely excited and thrilled with idea of going for rafting all over again.
There are three river locations in Bali ideal for whitewater rafting trips- The Ayung River Ubud, the Telaga Waja river karangasem and the Melangit River Klungkung.
We decided to go for "The Ayung river", which is the widest and longest river in Bali, stretching 75 kilometres. It's white water rafting trail offers a 10 kilometers route that usually takes up 1.5 – 2 hours to meander through. Another reason was it's proximity to the Ubud town. The Ayung river is located about one hour's drive from most tourist centres, or just 20 minutes drive from Ubud.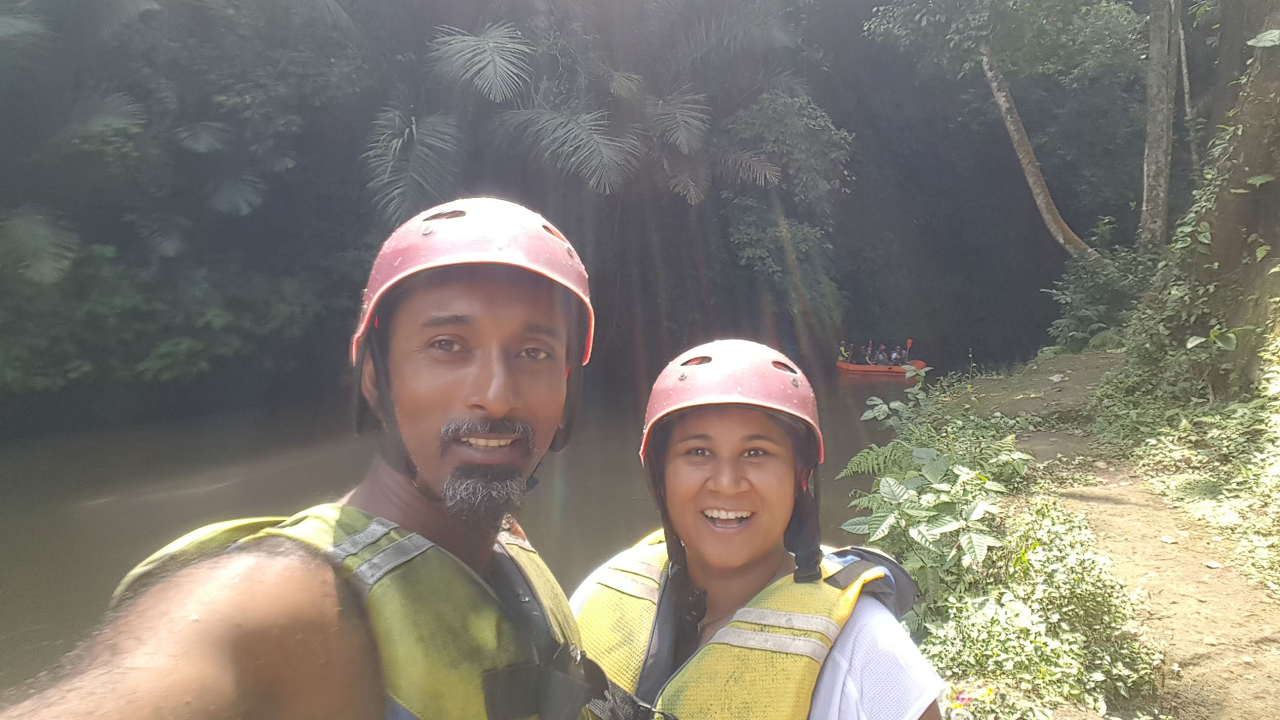 How to book
Now booking a water rafting trip in Bali can be tricky. The prices can wildly fluctuate depending on who you speak to. One can look up vendors online and book accordingly. Standard portals like tripadvisor or Bali tourism are good. Since it's an activity with a certain element of danger, it's always a good idea to go with a reputed vendor rather than some unknown tout.
If you know someone locally as was the case with us, one can try and strike a good deal. We got a steal at USD 15 Per person, but that's rare ! You need a friendly hotel receptionist for that 😉
Usually the published prices are close to USD 90-100 Per adult. The prices are negotiable and you should be able to get one close to USD 30-35 Per Person. Remember – Never ever turn up at the venue of rafting and check for prices unless you like getting ripped off or you are rich and don't mind stimulating the local economy.
INCLUSIONS IN THE BOOKING
• Air Conditioned pick and drop to most hubs in Bali. (Ubud, Sanur, Kuta,Seminyak, Nusa Dua, Jimbaran")
• Welcome Drink (Mineral water / Tea)
• Locker facility for your personal belongings.
• Professional Rafting equipment
• Professionally trained and experienced instructor
• Our Instructor had a water proof bag where we would keep our phones
• Complete changing/shower facilities with clean towels
• Lunch/meal and Tea/Mineral water
NOTE : The price above are not include for personal expenses such as photo, video or refreshments.
What to Carry: Tips
You can also carry a few things for convenience like:
• Change of clothes
• Suitable Footwear
• Sunscreen. LOTS OF IT,
• Camera / Phone camera waterproof cover
• Money (lower denominations) for refreshments and souvenir
Rafting timings
They conduct rafting in two shifts. One in the morning and one in the afternoon. We recommend the morning shift. It's much more pleasant in the morning compared to afternoon when its quite hot.
Morning pickups happen around 7.30 AM-9.30 AM depending on where you stay. Afternoon pick-up happen around 11.30 AM -12.30 PM. The actual rafting takes around 2-2.5 Hours. Ride back to rafting office and then Lunch. The whole thing easily takes 6-7 Hours. Hence if one goes for a morning shift part from being comfortable it also leaves the rest of the day free to explore other things.
The Ayung River Rafting experience
As soon as we reached the rafting venue we were asked to take a shower and lock up our valuables. Rafting gear was given to us and we were given a small briefing as to what to expect. It was a short 15 min drive to the river bank. Some of the banks are located quite high and often may require a 1-2 km trek to the base of the hill to the river. The path is winding and, in some places, narrow and slippery. While there is a pathway with railings it pays to be careful. Especially for the elderly and children.
The sacred Ayung River usually has class II and III level rapids which makes it a great place for amateurs. For those who are adventurous, they can do the same river in the rainy season when the rapids get re-classified as Level IV.
However, level II and III are great, since the experience has so much to offer that we don't want to get too pre-occupied with survival. The rafting trip goes through some of the most virgin rainforests. The dark jungle, the sounds of wildlife, birds' various animals make this river rafting session an experience worth remembering. Also, another unique thing about Ayung river rafting are the sculptures that have been made on the banks of the river throughout. The cravings tell the story of Ramayana, a famous Hindi Epic.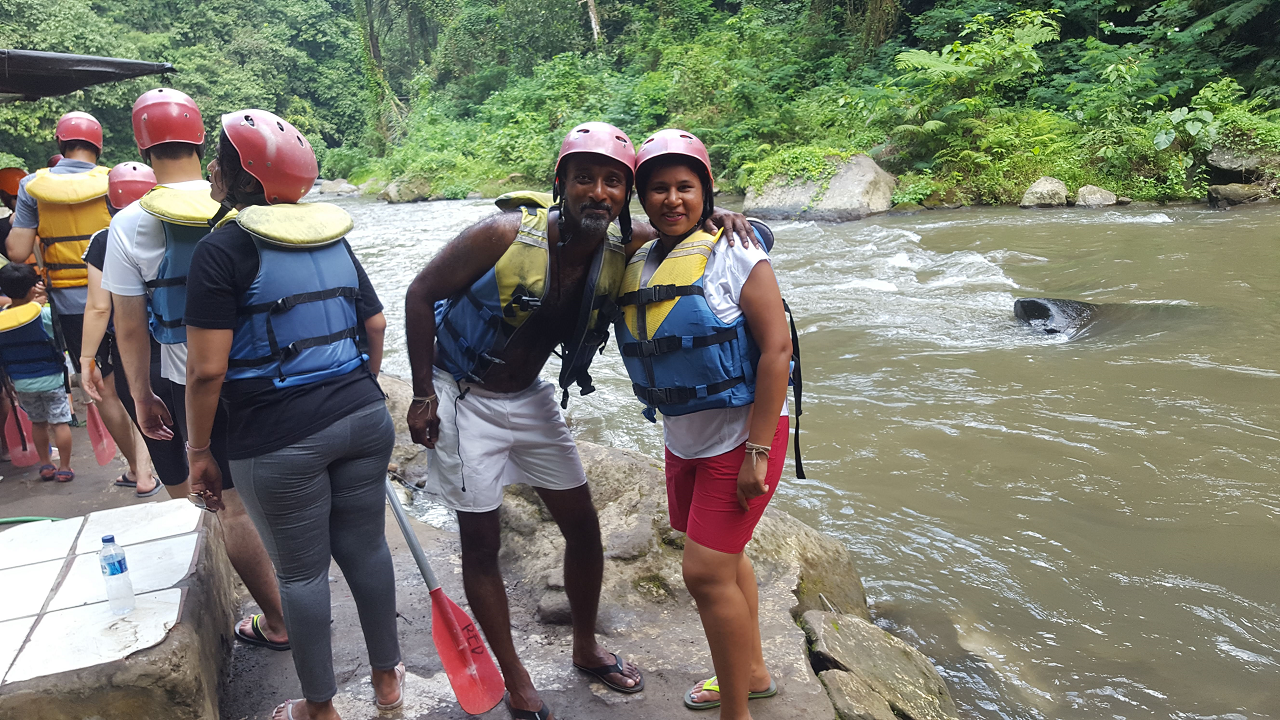 The Ayung river also has a neat waterfall and if the season is right you will be allowed to swim under one and even take a waterfall shower 😉
Usually the rafting sessions are safe. They operate in groups of 5-6 boats with a guide sitting at the back in each of them, He is usually the main guy doing all the steering and getting your boat out of sticky spots.
The trip stops in the middle once where one can stop by for refreshments. You can buy your self some nice tender coconut or a strong bottle of Bintang beer! Its also customary to buy your guide some food. However, it's up to you. Be warned the prices are likely to sound like extortion, however being able to sip a beer in the middle of a rain forest comes at a price!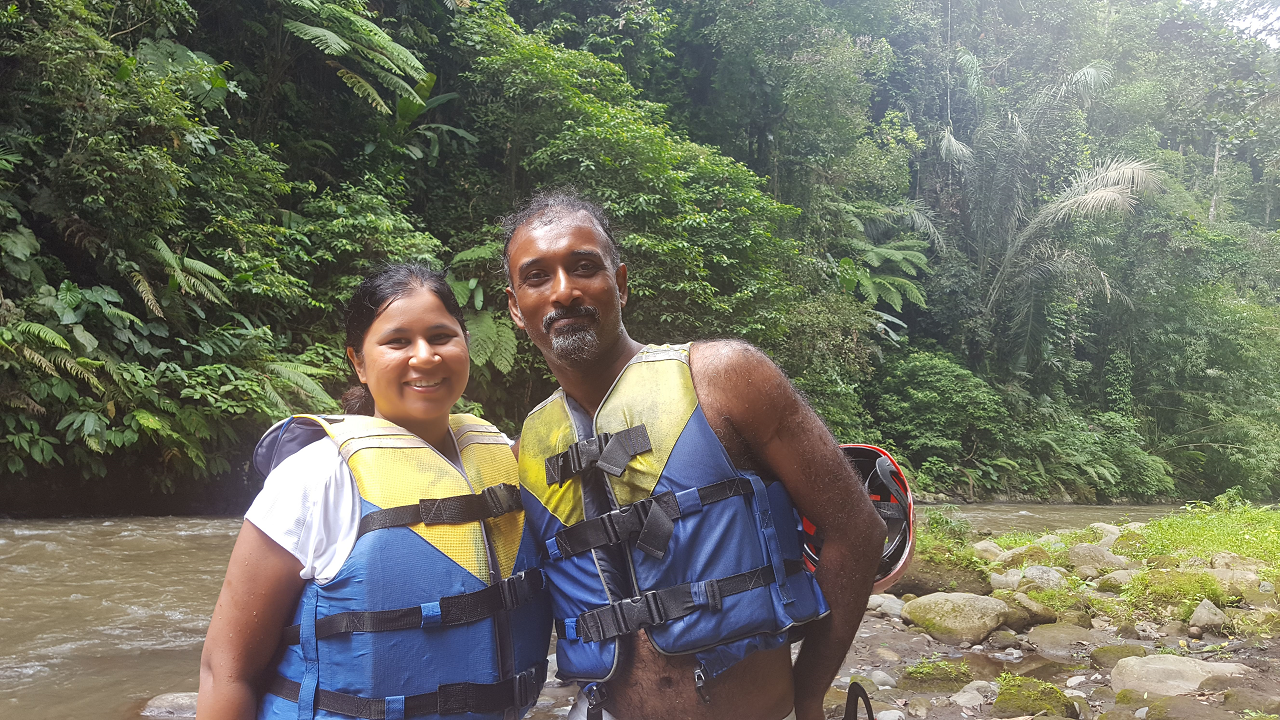 Another hour of rafting later we ended our trip. Post our trip we were taken back to the rafting office where we had a sumptuous lunch. You may wish to tip your guide as well. However that too is not mandatory and it's up to each individual.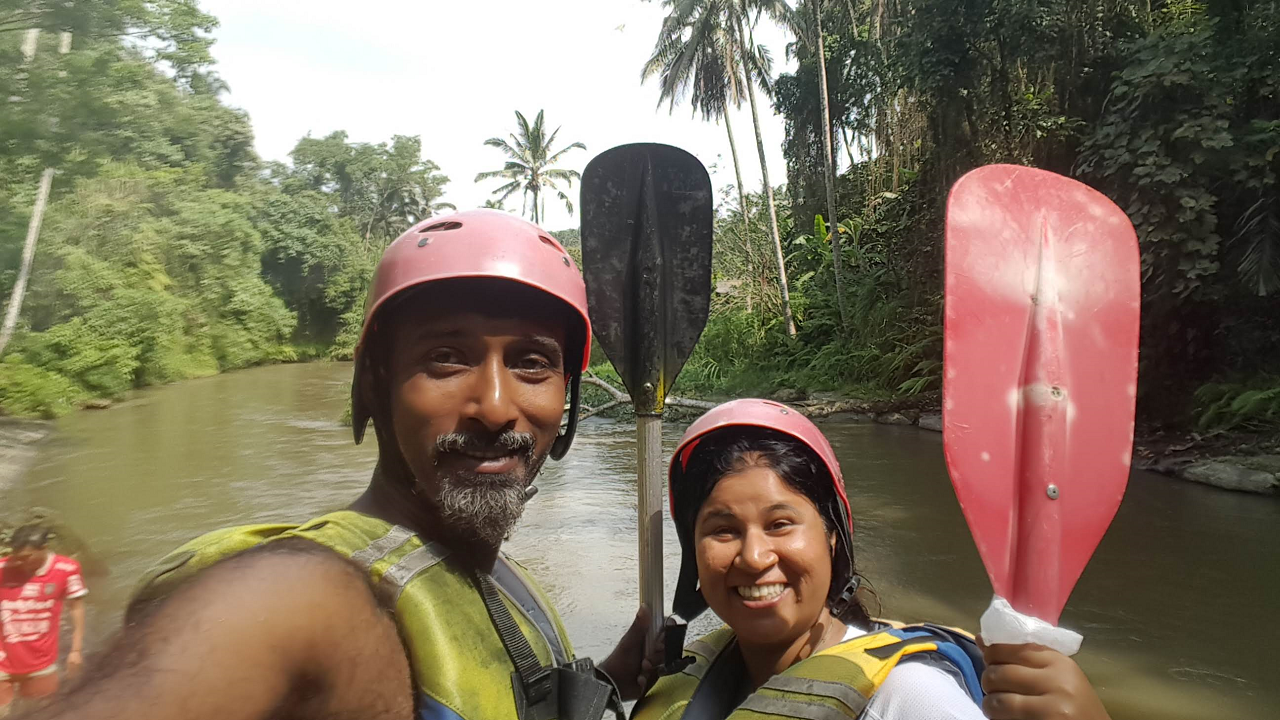 If you wish to know anything else about rafting in Bali do feel free to reach out to us.
Cher!