"The Kashmir of South India" is how Munnar has been described by tourists. It's a hill station located in the Idukky district in the southern province of Kerala. The name Munnar is believed to mean "three rivers" referring to its location at the confluence of the Mudhirapuzha, Nallathanni and Kundaly rivers.
In fact Munnar is considered one of the top tourist destinations in the world owing to its wild natural beauty. From beautiful tea gardens, lakes, mountains, dams, waterfalls and rivers. Munnar has everything that you can ask of a tourist location. We had an opportunity to visit Munnar. It was an incredible experience. Here is the story
How to reach Munnar

By Air:
Cochin International Airport, about 125km away is the nearest airport to Munnar. You can easily hire a cab, or if you are on as budget can even take the regular buses from the airport to reach your destination.

By Rail:
Aluva Railway Station; 110km away is the nearest railway station to Munnar. Besides this, Ernakulam Railway Station (130km) and Madurai Railway Station (135km) are the other two railway stations that can help you reach the hill station of Munnar.

By Road:
Road journeys are indeed the best way to travel in Kerala. You can enjoy the route which is very scenic. You can always avail both private-run and state buses from any corner of Kerala or from some parts of Tamil Nadu to reach Munnar by road. Frequent buses from Bangalore and Mysore are also available.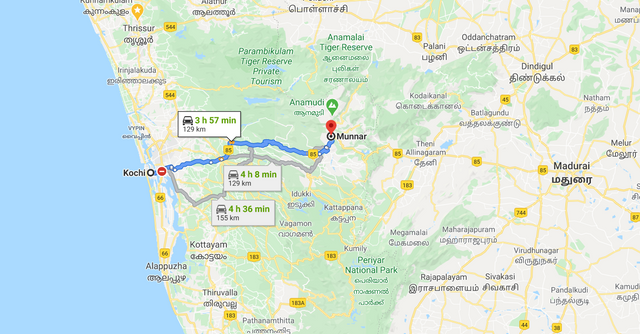 Best time to Visit: The best time to visit Munnar is during the months of October-November and January-May. As soon as the monsoon gets over by September, the atmosphere starts getting greener with a pleasant temperature. Also as winter starts bidding adieu by the end of February, you can always expect the temperature rising to an optimal level and continues till the end of May month.
We happened to travel in the month of August. We wanted to experience Kerala in it's full glory during the rains. We certainly were not disappointment at all. The abundance of greenery all around and lushness of the waterfalls left us spellbound. We had 4 days to spend in Munnar and here's what we picked.
1. Kolukkumalai: Highest Tea Estate in the world
The first place quite naturally was to soak in the beautiful tea gardens of Munnar. If you want to enjoy the scenic beauty of the Tea gardens it's best to go for a hike and get a birds eye view of the place. What better than visiting the highest tea estate in the world- Kolullumalai. This is one of the hidden gems and off radar from tourist hub.
Duration: Kolukkumalai is about 7,130 feet (2,170m) above sea level and the hill top village is accessible only by jeep due to rugged and rain drenched roads. You need to hire a jeep from the gate of Suryanelli tea estate from where the 9 kms of the bumpy off-roading will begin. The usual trip is 4 hours with a visit to the tea factory outlet and quick halts at some of the stunning viewpoints.
However once you get to the top, one would be forgiven for confusing the sleepy village hamlet for heaven or some sort of mystical space. It's high among the hills. If one goes just before the rainy season you can literally stand among the clouds. The view of the valley is simply a breath taking view. We spend 2 long hours just sitting there and sipping our warm cups of coffee. If time permits one can also trek to the Neelakurinji blossoms takes another 1.5-2 hours.
Tariffs:
Jeep hire- Rs.2000
Kolukkumalai trek – Rs.1000
Entry to Tea Museum – Rs.100 per person
2. Waterfalls
Kerala is one of the best waterfall destinations in the country. In munnar itself there are over 15 waterfalls. I happened to visit only 2 of them and trust us, they were a sight for sore eyes.
Lakkom Waterfall: It is located around 30 Kms from Munnar. This is small yet charming waterfall charming in the Idukki district of Kerala. During monsoons the bountiful waterfall coming down the steep hill ,surrounded by lush green forest makes it quite picturesque.
Visiting time at Lakkom Waterfalls is from 8:00 am to 5:00 pm and visitors have to pay an entrance fees of ₹20. There are no separate fees for DSLR cameras.
Cheeyapara waterfalls: This waterfall is en route to Munnar and is on the national Highway itself. The water cascading down to from a height especially during monsoon is a spectacular sight to behold. The Cheeyappara Waterfalls gush down in seven tiers.It is surrounded by lush greenery and lately has become a picnic location of sorts. It's a quick stop over sorts.
3. Lockhart Gap
Every felt as if you were in a wonderland? That's exactly how I felt when we visited the Lockhart Gap. Just 13 Kms away from Munnar city, this point offers is a visual delight for all with it's wide plantations and misty hills . If you are a photographers or a nature lover or an adventurer, this is the place to be. One can find numerous trekking trails to enjoy this unadulterated beauty.
3. Tea Museum
The tea museum in Munnar is very famous. Munnar being one of the regions that provides a lot of tea not just to India but to the world , it's but quite natural to expect institutions dedicated to helping us understand the process of making tea leaves and the various grades of tea. From plucking of the leaves to processing and packing them, you will get an opportunity to know more about the tea industry and reveal some of the most fascinating facts about this industry.
Timings: Morning 0900 hours to 1700 hours. Entry Fees INR 75/ 1 USD – Adult & INR 50/ 70 Cents Child. The place is closed on Mondays.
If you are a connoisseur of Tea you must visit the place, They also have good and exotic varieties of tea on sale. You can buy them here at a much cheaper rate than what may be available in the market. While this place is a must go for someone who is into "Tea". If you are a casual tourist who is looking to enjoy nature, you can give this one a miss.
4. Echo point
Echo point is another very popular destination in Munnar. Its located about 17 kilometres from the main city of Munnar. It takes about an hour of drive to reach there.
Echo point is spread over a slightly wide area. Its essentially the bank of a lake with impregnable forests on the other side. As if the view was not enough to take your breath away this place has the kind of landscape that creates a pronounced Echo when someone shouts in the direction of the forest. It can be quite surreal when you hear your own voice, perhaps your name being called out from across the forest.
Timings: The place is open from 0700 Hours to 1800 hours.Entry Fees: Entry tickets is INR 10 for adults and INR 5 for Kids.
You will find many shops selling their wares. My suggestion would be avoid them since the prices are hiked to cater to tourists. Its suggested that you carry water, trekking or sports shoes and dress for comfort and free movement. The place has many activities to keep you busy. Picnic spots, Boating and Hiking are all activities that one can enjoy here.
We spend some time sitting and soaking in the beauty. My mom was content to sit there. We were however more keen on shouting and hearing our voice being echoed back. Talk about cheap thrills.
5. Carmelagiri Elephant Park
We got to know about this place from one of the brochers in our resort. It was a true calling to the child inside us. We decided to go for it. This is a private park around 15 mins drive from munnar city. The part was surrounded by green hills, lush valleys, misty cloud-covered forests and sprawling tea plantations. Hitching on the back of a Huge Elephant and traversing the park was a super fun activity. We opted for 1 hour safari which is a 1KM ride around the dense forest.

Timings: 9AM -5PM
Entry Fees: The ride cost INR 400 per person for short safaris of 15 minutes. Photo ops with the elephant costs INR 250.
6. Mattupetty Dam
One of the most popular attractions in Munnar- Mattupetty dam. The place is silent, foggy and the river flows right down via the dam. The only sound one can hear is of the water flowing when the dam is open. When its shut the whole place just has an ere silence.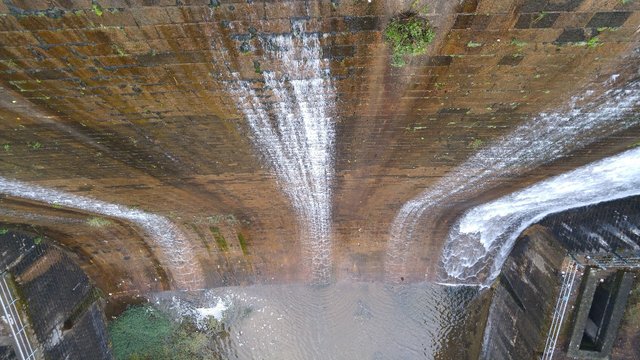 The dam serves as the main source of hydro electricity for Munnar. Also owing to the availability of water around this concrete gravity dam, an exotic range of flora and fauna thrives around it. One can see elephants and other animals who pop up from time to time.
Timings: Morning 0930 hours to 1700 hour in the evening. Entry fees: It is minimal INR 10/ 15 Cents in USD Boating: INR 500 / USD 75 for a 5 seater boat.
Munnar being a confluence point of three rivers has no dearth of water. Thus hydro-electricity is a very good option in these parts.
Hope you enjoyed reading our top picks for Munnar and our experience. If you wish to know anything about the place, feel free to reach out via the comments section.